BH/VT,  AD,  ZTP,  IPO 3  FH2,  HD-Frei, ED-Frei,  JLPP N/N
Deutscher VDH-Champion, German-Winner 2016, Bodensee-Sieger 2015/2016, Lingenfeld-lugendsieger 2015,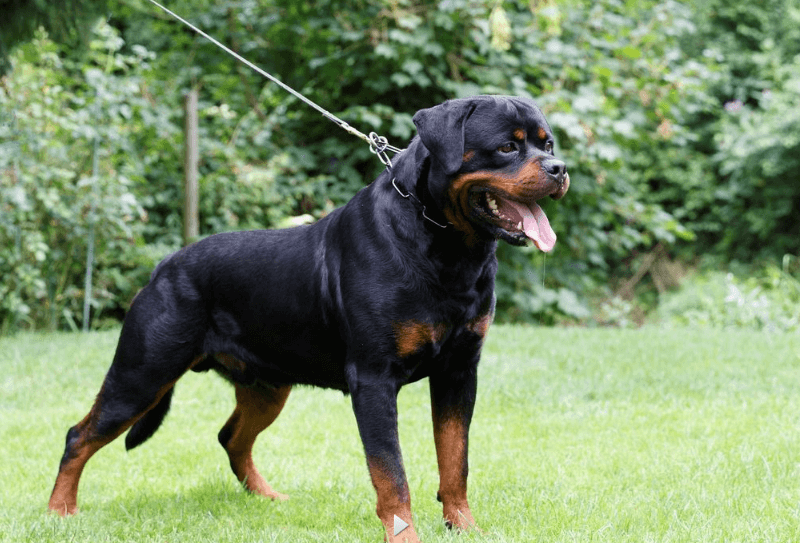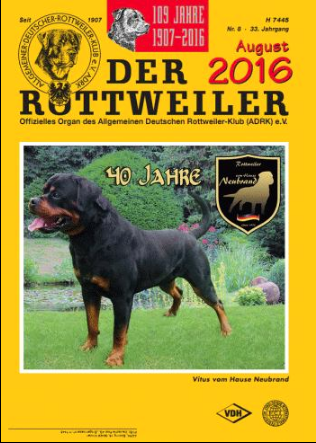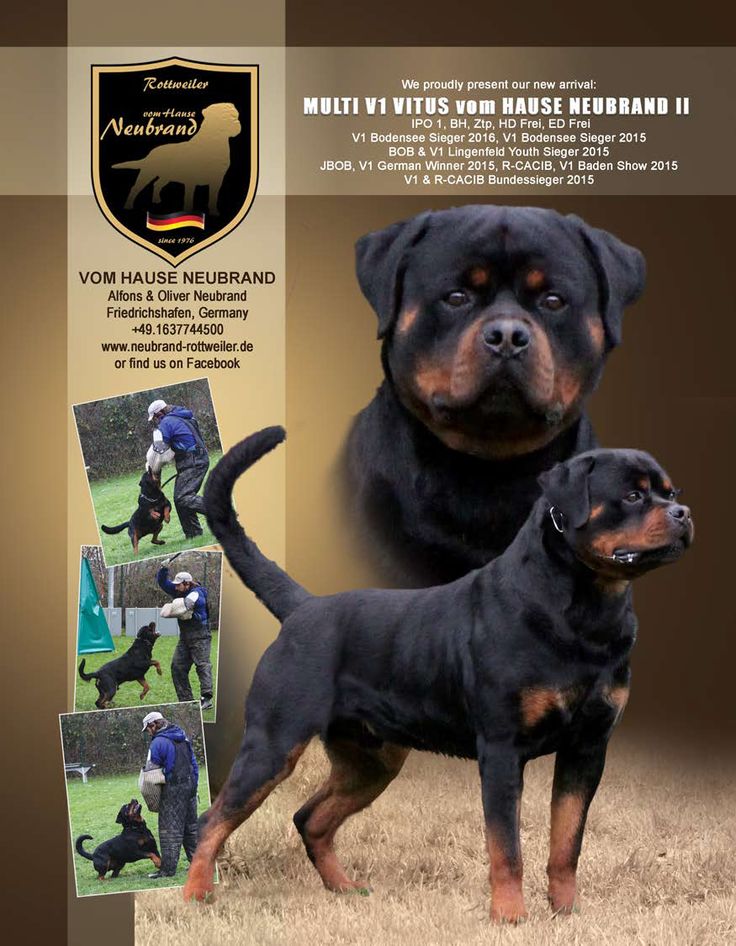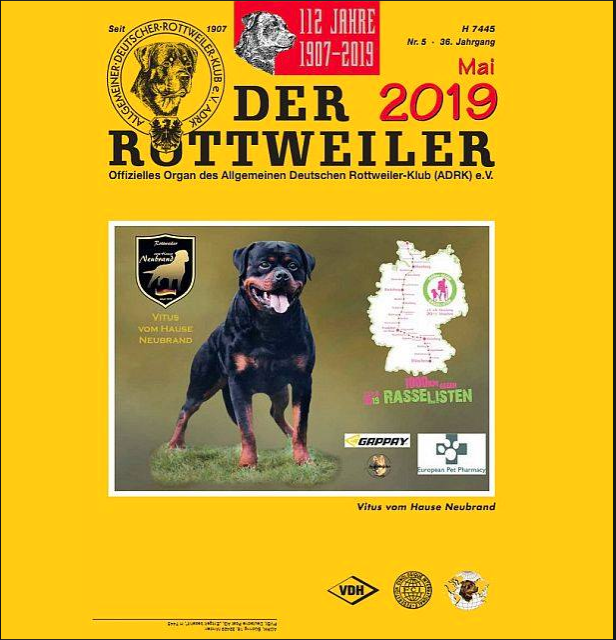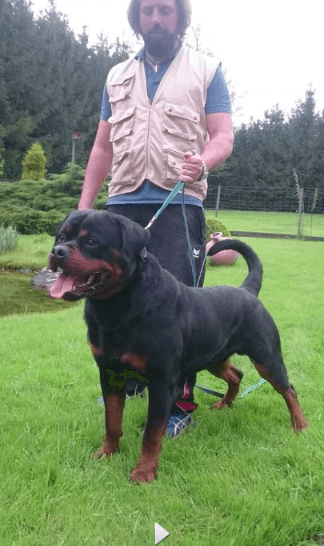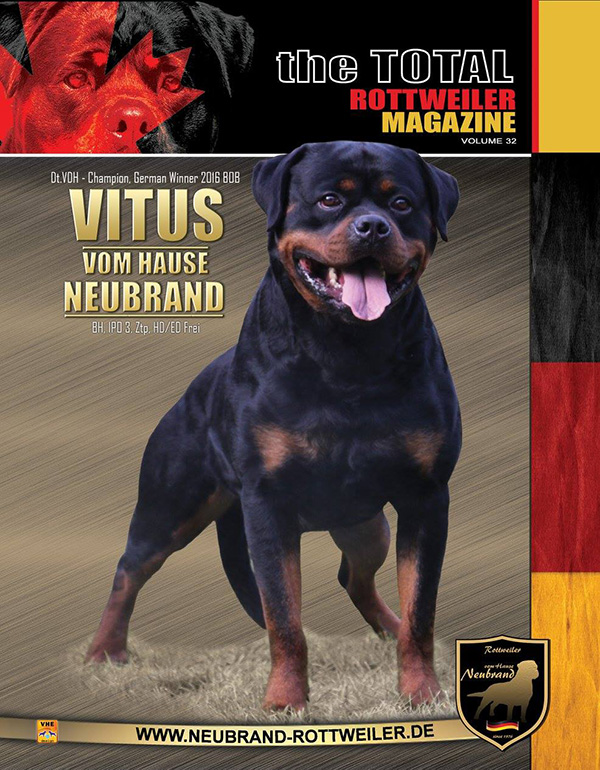 2018_12_08   VITUS achieves the FH 2 title - with excellent result of 99 Points -- highest tracking title in the Schutzhund World - under FCI Judge Andrea Möckel
2018_10_28   VITUS successfully passed the ADRK KÖRUNG --- premium selection breeding test !!!---!!!---!!! under the judges Werner Walter and Anton Spindler
2018_10_14  VITUS rates total excellent score in IPO 3 with the great scores of A 100 B 93 C96 total 289 V!!! under ADRK Judge Rüdiger Schmidt
2018_09_09  VITUS wins ADRK KLUB SIEGER 2018 !!! ---!!! --- !!!
2018_07_22 VITUS wins BODENSEE SIEGER and BOB 2018 under ADRK Judge Prof.Dr. Peter Friedrich
VITUS is awarded ADRK CHMAPION
2018_06_10  VITUS wins again REICHSTADT Sieger and BOB in Rottweil under Judge Erika Egolf
2018_05_05  VITUS is competing at the ADRK IPO World Championships - unfortunately no out...
VITUS is awarded INTERNATIONAL CHAMPION FCI
2017_12  IPO Trial Friedrichshafen: VITUS rates IPO 3 A 94 B 92 C 87a Total 273 SG PRE-QUALIFICATION ADRK DM 2018 --- ADRK Judge Rüdiger Schmidt
2017_11  FCI World Show: VITUS rates V1 CAC, BOS and Wins "FCI WORLD SIEGER 2017" ADRK Judge Rüdiger Schmidt
2017_08  ADRK KS: VITUS rates V1 Anw.Dt.VDH-CH in Champion Class --- ADRK Judge Siegmund Trebschuh
2017_07  VITUS rates V1 Anw.Dt.VDH-CH in Champion Class @ Bodensee Sieger Show ADRK Judge HJ Radtke
2017_06_11  VITUS rates V1 CAC, BOB, Reichstadt Sieger 2017 in Rottweil under ADRK Judge Prof.Dr. Friedrich
2017_05_07  VITUS rates V1 CAC @ Klub Sieger Austria under ADRK Judge Hans Jürgen Radtke
2017_04_01  VITUS passed his AD under ADRK Judge Gerd Dietrich
2016_12_11  VITUS passed IPO 3 with A 90 B 89 C 92a total 271 Points under ADRK Judge Thomas Weber in Friedrichshafen (BG Allgäu Bodensee)
---VITUS is offically German VDH Champion ---
2016_10_22  Vitus successfully passed his IPO 2 with A 98 B87 C95a total 280 points under ADRK Judge Heinrich Wömpner
2016_08_21  German Winner Show: Vitus wins GERMAN WINNER 2016 and BOB under Judge Prof.Dr. Peter Friedrich
2016_06_28  Bodensee Sieger Show: Vitus V1 Working Class, Bodensee Sieger 2016 Judge R.Schmidt
2015_12  Vitus passed his IPO 1 under Judge Kai Möckel
- ZTP am 29.11.15 Friedrichshafen, Prof Dr. Peter Friedrich
Vorderpfalzjugendsieger 2014 BOB, Bodenseejugendsieger 2014 BOB, V1 Zwischenklasse German Winner Show 2014, V1 Zwischenklasse Bundessieger Schau 2014, V5 Zwischenklasse KS ADRK,ZTP, IPO1 A95 B80 C93a,
We do not own Vitus vom Hause Neubrand.
He is owned & bred by Oliver Neubrand out of the Neubrand Kennel in Germany.  Special Thanks to Oliver for letting us bring Vitus's bloodline to our kennel.